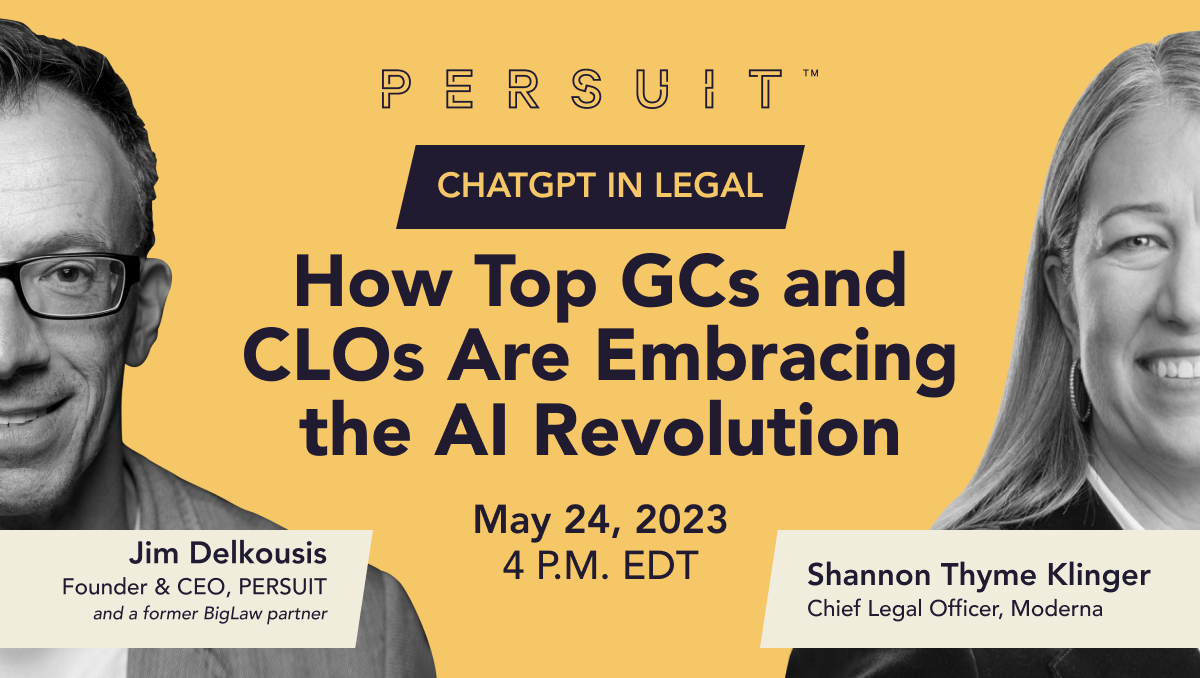 ChatGPT in Legal: How Top GCs and CLOs Are Embracing the AI Revolution
​​Wednesday, May 24, 2023: 4 p.m. EDT / 9 p.m. BST
Unhappy lawyers, choke-worthy billable rates, a talent ecosystem that is embarrassingly homogeneous compared to its professional services counterparts.
Could AI help us address these challenges in legal?
Join us on Wednesday, March 24, 2023, at 4 p.m. EDT for a conversation about AI and innovation with Shannon Thyme Klinger — Chief Legal Officer at Moderna — and Jim Delkousis, PERSUIT's CEO (and a former BigLaw partner).
Shannon and Jim will "chat" about ChatGPT, AI in general, and how forward-thinking GCs and CLOs are leveraging AI to do more, do better, and make change happen.
How are in-the-know GCs and CLOs navigating this unprecedented industry transformation?
And what will that transformation look like in the next 12-24 months?
In this special session, Shannon and Jim will discuss:
How legal departments are upskilling and building out their teams to leverage AI more effectively.
How AI is changing their engagement with outside firms and alternative legal service providers, especially with respect to high-stakes work, like bet the company litigation and M&A transactions.
How AI is accelerating the death of the billable hour and the old-school lawyer culture that goes with it.
How AI can play a huge role in leveling the playing field for diverse talent in the legal profession.
The most promising AI use cases for in-house teams.